Ok, So I guess this is where I'm going to Display my Artwork, they aren't free to use, but if you do want to use them, contact me. they are finished (this is not all my work), in case you were windering, i'll add more one in a while too.
Reno (Male Armor)
This armor, is named and based off Reno from Final Fantasy (the movie) I'm not a big fan of final fantasy, in fact the only game i've played by them is Tactics, but when I saw the picture of Reno (a character in a film of FF) I couldn't pass up making his sick outfit.
Alien Suit (Male Armor)
Basic Alien Suit, I call it a clasic play on the original Alien designs. In other words, Simple.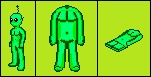 Rainbow Tuxedo (Male Armor)Prototype Name: The Flamboyant Suit. The most daring armor I've made, has the potential to be the biggist hit amongst servers, or the hardest flop. More Unique then the White Tux, the Rainbow Tuxedo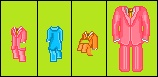 Inferno Tuxedo (Male Armor)
Not so daring, just a sick armor overall, gives the presence of a pyro maniac, those are tatoos btw, its a dragon that raps around your arm.

Shutter Shades (New Glasses Style)
One in every shade, of hairstyle EO has it's the Shutter Shades, extremely Popular in the 80's now worn by celebrities, agin in a revival, it's hot among any fashonista. (order left to right: Black Shades, Blue Shades, Green Shades, Luna Shades, White Shades, Shutter Shades (original), Pink Shades, Purple Shades, Red Shades, Yellow Shades.

Neon Belt (Paperdoll Item)
There is a full collection of NEON items for paperdolls, including an armor, and boots.

Remember All Items Were Made By Saphirron (A.K.A. Dajar, Me.)